New LeeQ Power Supply 90W 19.5V 4.62A Dell Charger
Dispatched within
24 hours
Availability
medium quantity
Number of people on the product page:
0
Product code: 8714
Description
NOWY ZASILACZ DO LAPTOPÓW DELL LEEQ 90W
Pasuje do wszystkich modeli wymagających zasilacza 90W (19,5V/4,62A) i wtyczki 7,4x5,0 z pinem.
Zasilacz jest w pełni kompatybilny z fabrycznymi ładowarkami
DANE TECHNICZNE
Marka: LeeQ
Model: ZM-90W
Napięcie wejściowe: 100-240V AC
Napięcie wyjściowe: 19,5V DC
Maksymalny ciągły prąd wyjściowy: 4,62A
Moc: 90W
Wtyk:7,4x5,0mm z pinem
Gniazdo na sieciowy przewód zasilający: tzw. "koniczynka".
Zabezpieczenia: przepięciowe, przeciążeniowe, zwarciowe
Certyfikaty: CE, FCC, RoHS
Kolor: czarny
Gwarancja: 6 miesięcy (realizowana w naszym serwisie)
Zasilacze są nowe, wersja BOX
Zasilacze sprzedawane są bez kabla zasilającego.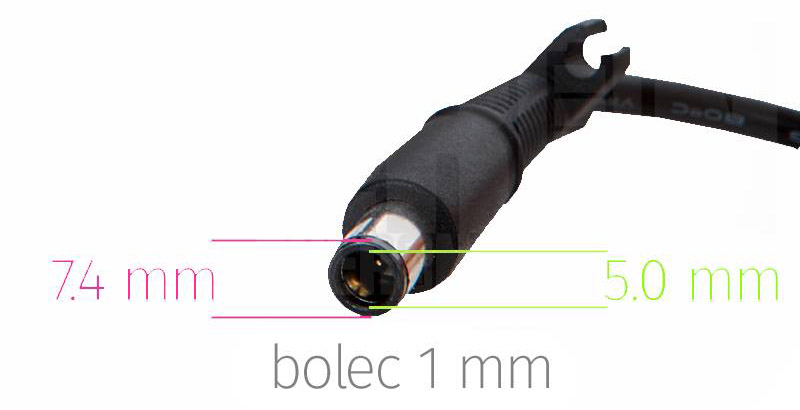 Zamienne modele zasilaczy:
00W6KV, 06C3W2, 0928G4, 09RCDC, 09T21, 09T215, 09T269, 0C120H, 0CM889, 0D094H, 0DF266, 0DF315, 0H0W77, 0HH44H, 0HOW77, 0J62H3, 0JCF3V, 0KD8HY, 0MK947, 0MM545, 0MV2MM, 0NN236, 0NY512, 0TK3DM, 0U680F, 0U7809, 0UU572, 0W6KV, 0WK890, 0WTC0V, 0Y4M8K, 0Y807G, 0Y808G, 0YD9W8, 0YY20N, 332-1833, 6C3W2, 928G4, 9RCDC, 9T215, 9T269, AA90PM111, AD-90195D, ADP-90AH FA, ADP-90LD B, ADP-90LD D, ADP90VH B, ADP90VH D, ADP90ZD B, ADP90ZD BA, C120H, CM889, D094H, DA90PE0-00, DA90PE1-00, DA90PE3-00, DA90PM111, DA90PM130, DA90PS1-00, DA90PS2-00, DF266, DF315, FA90PE1-00, FA90PM111, HA90PE1-00, HH44H, J62H3, JCF3V, KD8HY, LA90PE1-01, LA90PM111, LA90PM130, LA90PS0-00, LA90PS1-00, LA90PSO-00, MK947, MM545, MV2MM, NN236, NY512, O6C3W2, O928G4, O9RCDC, O9T215, O9T269, OC120H, OC12OH, OCM889, ODF266, ODF315, OH0W77, OHH44H, OHOW77, OJ62H3, OJCF3V, OKD8HY, OMK947, OMM545, OMV2MM, ONN236, ONY512, OOW6KV, OTK3DM, OU680F, OU68OF, OU7809, OUU572, OW6KV, OWK890, OWTC0V, OWTCOV, OY4M8K, OY807G, OY808G, OYD9W8, OYY20N, PA-10, PA-1900-01D3, PA-1900-02D, PA-1900-02D2, PA-1900-02D3, PA-1900-28D, PA-1900-32D, PA-1900-32D2, PA-1900-32D3, PA-1900-32DB, PA-3E, TK3DM, U680F, U7809, UU572, WK890, WTC0V, WTCOV, Y4M8K, Y807G, Y808G, YD9W8, YY20N, 310-2860, 10-3149, 310-4408, 310-7251, 310-7696, 310-7697, 310-7866, 310-8363, 310-8941, 310-9048, 310-9050, 310-9249, 310-9438, 310-9439, 5U092, 9T215, AA22850, CF823, DF263, F7970, F8834, HF991, MK911, N2765, N2768, NADP-90KB, NF642, PA-12, PA-1650-050, PA-1650-05D, PA-1650-05D2, PC531, Pa-12, T2357, U7088, XD733, XD802, YR7,
Zasilacz pasuje m.in. do laptopów DELL:
INSPIRON 500, 1110, 1120, 1150, 1320, 1420, 1427, 1464, 1470, 1501, 1520, 1521, 1525, 1526, 1545, 1564, 1570, 1720, 1721, 1750, 1764, 3421, 3437, 3441, 3442, 3443, 3520, 3521, 3531, 3537, 3541, 3542, 3543, 3721, 3737, 5323, 5420, 5421, 5423, 5520, 5521, 5537, 5547, 5548, 5720, 5721, 5735, 5737, 5748, 5749, 6000, 6400, 7447, 7520, 7537, 7547, 7737, 7746, 8500, 8600, 9100, 9200, 9300, 9400, 300M, 500M, 505M, 510M, 6000D, 600M, 630M, 640M, 710M, E1405, E1501, E1505, E1705, M4010, M4040, M5010, M5030, M5040, M5110, N3010, N4010, N4020, N4030, N4050, N4110, N5010, N5020, N5030, N5040, N5110, N7010, N7110,
LATITUDE 13, 2100, 2110, 2120, 3330, 3340, 3440, 3450, 3540, 3550, 5250, 5450, 5550, 7250, 131L, 6430U, D400, D410, D420, D430, D500, D505, D510, D520, D531, D531N, D540, D600, D610, D620, D630, D630N, D631, D631N, D800, D810, D820, D830, D830N, D831, E4200, E4300, E4310, E5400, E5410, E5420, E5430, E5440, E5450, E5470, E5500, E5500, E5510, E5510, E5520, E5520, E5520M, E5530, E5540, E5550, E5570, E6220, E6230, E6320, E6330, E6400, E6410, E6420, E6430, E6430S, E6440, E6500, E6500, E6500 ATG, E6510, E6520, E6540, E7240, E7250, E7440, E7450, X300, XT, XT2, XT3
STUDIO 13, 14z, 1440, 1435, 1450, 1457, 1458, 15, 1535, 1537, 1555, 1557, 1558, 1569, 1640, 1645, 1647, 1735, 1737, 1745, 1747, 1749, XPS 13, XPS 1340, XPS 16, XPS 16 1645, XPS 16 1647, XPS 1640, XPS 1647
VOSTRO 90, 1000, 1000, 1014, 1014, 1015, 1015, 1088, 1200, 1210, 1220, 1300, 1310, 1320, 1400, 1440, 1440, 1450, 1450, 1500, 1510, 1510, 1520, 1520, 1540, 1550, 1700, 1710, 1720, 2420, 2421, 2510, 2510, 2520, 2521, 3300, 3350, 3350, 3360, 3400, 3400, 3450, 3450, 3460, 3500, 3500, 3550, 3550, 3555, 3560, 3700, 3750, A840, A860, A90, V13, V130, V131
XPS 14/L421X, 14Z/L412Z, 15z/ L512z, L401x, L501X, L502X, L521x, M1210, M1330, M1400, M1530
PRECISION M20, M2300, M2400, M2800, M4300, M60, M65, M70
ALL IN ONE one 2205, one 2305, one 2310
Product reviews (0)