NEW Dell Inspiron 15-5510 Laptop with Windows 10
Dispatched within
24 hours
Availability
small quantity
Hurry up, there is already last piece of this product.
Number of people on the product page:
Description
IDEALNY LAPTOP DLA BIURA, DOMU I BIZNESMENA
PROMOCJA - Dell Inspiron 15 5510
NOWA CENA 3829zł! Cena katalogowa 6799zł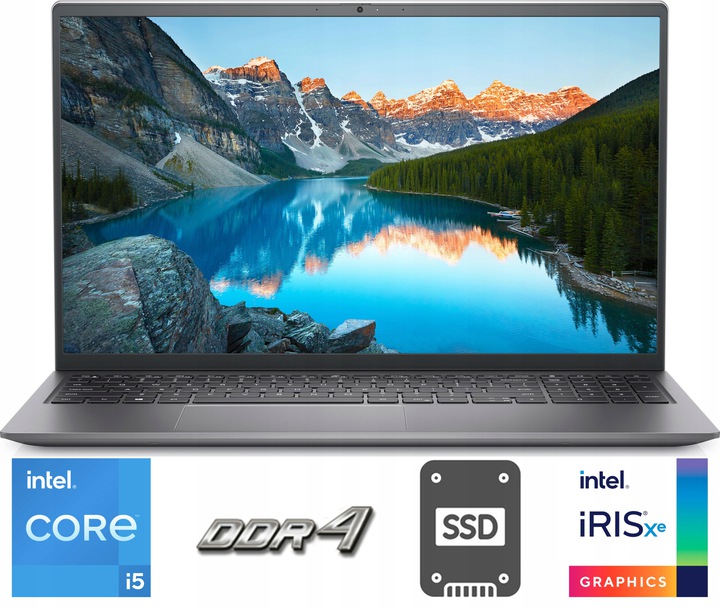 Procesor: Intel Core i5-11300H do 4,4GHz
Pamięć ram: 32GB DDR4
Dysk twardy: 1TB SSD PCIe
Matryca: 15,6" Full HD 1920x1080 IPS
Karta graficzna: Intel Iris Xe
Porty: HDMI; USB 3.2; USB-C
System: Windows 10 Home
Gwarancja: 12 miesięcy
Stan: Nowy w oryginalnym opakowaniu!
Dell Inspiron 15 5510
Cenisz sobie swobodę i elastyczność, jaką daje Ci zdalna praca, ale wymagasz wygody i niezawodności od swojego sprzętu? Odkryj Inspirona 15 z serii 5000 – laptopa, który dotrzyma Ci kroku.
Doskonały procesor Intel i5-11300H z grafiką Iris Xe.
Wydajna bateria, którą naładujesz od 0 do 80% już w godzinę (ExpressCharge).
Wybierz gwarancję produktywności niezależnie od miejsca czy zadania.
Pełnia mocy Intel® Core™ i5 11
Sercem laptopa jest jego wnętrze. Procesor Intel® Core™ i5 11. generacji łączy nową architekturę CPU z zaawansowaną technologią SuperFin klasy 10nm. Częstotliwość turbo pojedynczego rdzenia może osiągnąć nawet 4,4 GHz, oferując ogromny wzrost wydajności i niezwykłą szybkość działania.
Dysk SSD
Nowoczesny, szybki i niezawodny dysk SSD doda Twojemu urządzeniu kolejny atut. Jeśli cenisz błyskawiczne działanie, wymagające gry komputerowe, pracę na wielu plikach i programach – dysk SSD sprawdzi się niezawodnie. Laptopy z dyskiem SSD pracują ciszej, a Twoje dane są jeszcze lepiej chronione – nośnik jest odporny na uszkodzenia mechaniczne i energooszczędny, co przekłada się na długość pracy Twojego laptopa na baterii.
Pamięć DDR4
Jeszcze szybsza i nowocześniejsza pamięć RAM DDR4 przeniesie Cię w nowy wymiar prędkości działania. Korzystanie z gier, programów i aplikacji będzie jeszcze bardziej komfortowe. Pamięć DDR4 jest nie tylko szybsza, ale również smuklejsza w budowie od swojej poprzedniczki i dlatego mieści się nawet w najcieńszych obudowach urządzeń mobilnych.
Układ graficzny Intel® Iris® Xe
Najnowsza grafika Intel® Iris® Xe zapewnia innowacyjną, zintegrowaną technologię graficzną, aby wzbogacić wrażenia podczas gry i zwiększyć prędkość pracy podczas tworzenia treści. Zyskaj zupełnie nowe doświadczenia z obrazem nawet do rozdzielczości 8K i technologią 4x4K HDR, która umożliwia podłączenie nawet czterech wyświetlaczy na raz. Twórcy mogą projektować i tworzyć złożone pliki z niezwykłym poziomem szczegółowości, a gracze mogą cieszyć się szybką i intensywną rozgrywką w rozdzielczości Full HD w popularnych grach.
Porty i gniazda
1. Czytnik kart pamięci | 2. USB 3.2 | 3. Audio | 4. Złącze zasilania | 5. HDMI 1.4 | 6. USB 3.2 | 7. USB 3.2 Type-C (z możliwością DisplayPort)
DANE TECHNICZNE
Procesor: Intel Core i5-11300H (3,1GHz)

4 rdzenie, 8 wątków procesora do 4,4GHz

(8MB Cache, 3,1GHz, do 4,4GHz w trybie turboboost)
Matryca: 15,6" Full HD 1920x1080 IPS - matowa matryca o świetnym odwzorowaniu kolorów!
Układ graficzny: zintegrowany układ Intel(R) Iris Xe!
Pamięć RAM: 32GB - niezwykle szybka pamięć DDR4
Dysk twardy: Bardzo szybki dysk SSD 1TB w najnowszym interfejsie M.2 PCIe NVMe!
Dźwięk: Zintegrowany układ High Definition Audio
Karta sieciowa: Intel Gigabit Controller
Komunikacja bezprzewodowa: WiFi 6; Bluetooth 5.1
Porty: HDMI; 2x USB 3.2; USB 3.2 Type-C; Audio
Wprowadzanie danych: Touchpad; Podświetlana klawiatura z blokiem numerycznym w polskim układzie!
Dodatki: Kamerka Internetowa; Czytnik linii papilarnych
System: Windows 10 Home (COA) - system zainstalowany na dysku + licencja!

Na dokumencie zakupu widnieje wpis, że komputer sprzedawany jest z systemem
Wymiary, waga i pochodzenie
Wymiary: Wysokość 18,7 mm; Szerokość 356 mm; Głębokość 229 mm
Gwarancja - 12 miesięcy (realizowana w naszym serwisie MMCOMP).
Product reviews (0)