Dell Vostro 3250 computer with Windows 10
Dispatched within
24 hours
Availability
small quantity
Hurry up, there is already last piece of this product.
Number of people on the product page:
Description
IDEALNY KOMPUTER DO FIRMY, BIURA
Dell Vostro 3250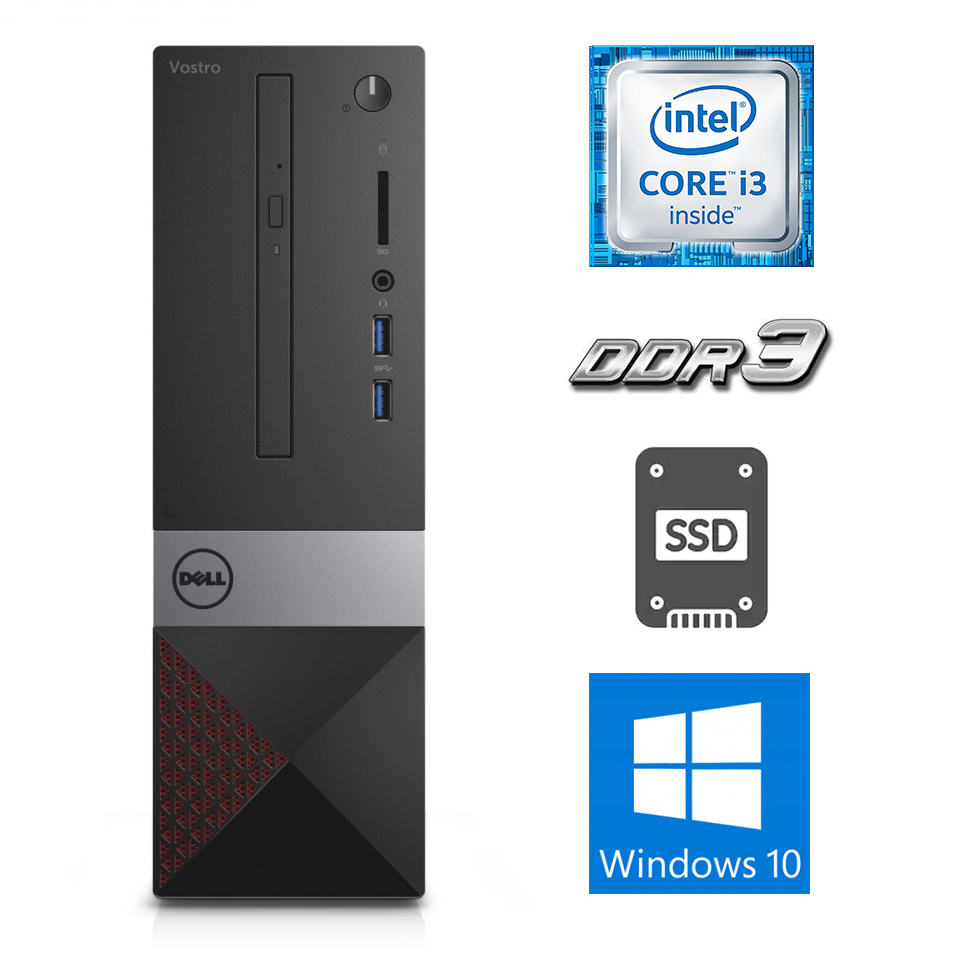 Procesor: Intel Core i3-6100 do 3,7GHz!
Pamięć ram: 8GB DDR3
Dysk twardy: 120GB SSD
Karta graficzna: Intel HD Graphics 510
Porty: USB 3.0; VGA; HDMI
System: Windows 10 Pro
Gwarancja: 12 miesięcy
 Laptop w pełni sprawny technicznie. Przed wysyłką sprzęt jest testowany i przygotowany do pracy (wgrany jest system Windows wraz ze sterownikami).
Procesory Intel® Core™ szóstej generacji SKYLAKE
Tworzysz własny system przeznaczony do gier? Chcesz jednocześnie grać i udostępniać strumieniowo obraz ze swojego urządzenia? Jeśli pragniesz otrzymać najwyższą wydajność, procesor Intel® Core™ szóstej generacji jest tym, czego potrzebujesz. Z jego pomocą wyposażysz swój nowy system w dwa rdzenie o szybkości taktowania 3,7 GHz oraz 3 MB pamięci cache. Szybkość, stabilność i wydajność to jest to co wyróżnia procesor i3 szóstej generacji.
Dysk SSD
Nowoczesny, szybki i niezawodny dysk SSD doda Twojemu urządzeniu kolejny atut. Jeśli cenisz błyskawiczne działanie, wymagające gry komputerowe, pracę na wielu plikach i programach – dysk SSD sprawdzi się niezawodnie. Komputery z dyskiem SSD pracują ciszej, a Twoje dane są jeszcze lepiej chronione – nośnik jest odporny na uszkodzenia mechaniczne.

To system Windows jaki znasz, tylko lepszy
Windows 10 jest tak dobrze znany i łatwy w użyciu, że poczujesz się jak ekspert. Menu Start wraca w rozszerzonej postaci, a poza tym nadal są dostępne przypięte aplikacje i ulubione, więc będzie można od razu z nich korzystać. Szybko uruchamia się i wznawia działanie, ma więcej wbudowanych zabezpieczeń gwarantujących Twoje bezpieczeństwo i jest zaprojektowany do działania ze sprzętem i oprogramowaniem, które już masz.
Porty i gniazda:
1. Napęd DVD | 2. Przycisk zasilania | 3. Czytnik kart pamięci | 4. Audio | 5. 2x USB 3.0 | 6. Audio | 7. VGA | 8. HDMI | 9. 4x USB 2.0
10. RJ-45 | 11. Złącze zasilania
DANE TECHNICZNE
Procesor: Intel Core i3-6100 (3,7GHz)

2 rdzenie, 4 wątki

(3M Cache)
Kontroler graficzny: zintegrowany układ Intel HD 510
Pamięć RAM: 8GB - szybka pamięć DDR3

╰┈➤ Możliwość zamiany pamięci do 16GB! 
Dysk twardy: Bardzo pojemny dysk SSD 120GB!

╰┈➤ Możliwość zamiany na szybszy dysk SSD 240GB lub nowy dysk SSD 512GB! 

Napęd: DVD-RW (odtwarzacz płyt DVD z funkcją nagrywania)
Dźwięk: Zintegrowany układ Intel
Karta sieciowa: Zintegrowany układ Intel
Złącza: Audio; 2x USB 3.0; VGA; HDMI; 4x USB 2.0; RJ-45
System: Windows 10 Pro - system zainstalowany na dysku + licencja! (na niektórych egzemplarzach zostanie zrobiony update z W7 do W10)

Na dokumencie zakupu widnieje wpis, że komputer sprzedawany jest z systemem!

Klasa produktu: A-

Sprzedawany przez nas sprzęt jest produktem używanym, poleasingowym. Towar został sprawdzony przez profesjonalny serwis, co daje nam gwarancje 100% sprawności technicznej. Komputer jest przygotowany pod klienta, instalowany jest oryginalny system Windows, wgrywane najnowsze sterowniki. Klasę produktu oceniamy na A-, czyli sprzęt, który może posiadać ślady użytkowania typu rysy, ślady po naklejkach czy obtarcia. Ostatnie sztuki mogą posiadać wgniotki lub uszkodzone gniazdo jack z przodu.
Wymiary waga i pochodzenie
Wymiary: Wysokość: 290 mm Szerokość: 92,6 mm Głębokość: 293 mm
Pochodzenie: Magazyn outletowy Dell
Gwarancja - 12 miesięcy (realizowana w naszym serwisie MMCOMP).
Product reviews (0)