Dell 7390 laptop with Windows 10
Dispatched within
24 hours
Availability
small quantity
Hurry up, there is already last piece of this product.
Number of people on the product page:
Description
IDEALNY DLA BIURA, STUDENTA I DOMU
DELL Latitude 7390
Procesor: Intel Core i5-8350U do 3,6GHz!
Pamięć ram: 16GB DDR4
Dysk twardy: 256GB SSD
Matryca: 13,3" 1920x1080 Full HD IPS
Karta graficzna: Intel HD 620
Porty: HDMI; USB 3.1; USB-C
System: Windows 10 Pro
Gwarancja: 12 miesięcy
Laptop w pełni sprawny technicznie. Przed wysyłką sprzęt jest testowany i przygotowany do pracy (wgrany jest system Windows wraz ze sterownikami).
Procesor Intel Core i5 ósmej generacji
Komputer z procesorem Intel® Core™ i5 ósmej generacji pozwala iść z duchem epoki cyfrowej. Technologia Intel® Turbo Boost 2.0 zwiększa wydajność i dynamikę działania, zapewnia więcej czasu na produktywne zadania, mniej na czekanie. Możesz z łatwością tworzyć, edytować i udostępniać materiały multimedialne oraz korzystać z płynnej obsługi filmów w najwyższej rozdzielczości i filmów sferycznych. Rób zakupy, korzystając z wbudowanych zabezpieczeń.
Dysk SSD
Nowoczesny, szybki i niezawodny dysk SSD doda Twojemu urządzeniu kolejny atut. Jeśli cenisz błyskawiczne działanie, wymagające gry komputerowe, pracę na wielu plikach i programach – dysk SSD sprawdzi się niezawodnie. Laptopy z dyskiem SSD pracują ciszej, a Twoje dane są jeszcze lepiej chronione – nośnik jest odporny na uszkodzenia mechaniczne i energooszczędny, co przekłada się na długość pracy Twojego laptopa na baterii.
Pamięć DDR4
Jeszcze szybsza i nowocześniejsza pamięć RAM DDR4 przeniesie Cię w nowy wymiar prędkości działania. Korzystanie z gier, programów i aplikacji będzie jeszcze bardziej komfortowe. Pamięć DDR4 jest nie tylko szybsza, ale również smuklejsza w budowie od swojej poprzedniczki i dlatego mieści się nawet w najcieńszych obudowach urządzeń mobilnych.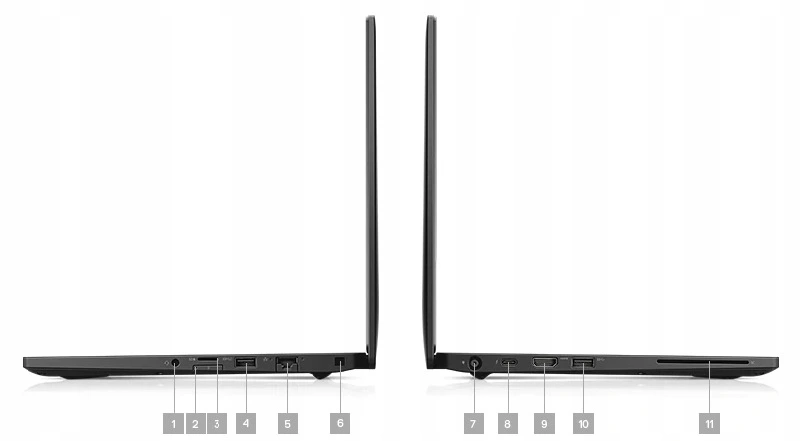 Porty i gniazda
1. Gniazdo combo słuchawek/mikrofonu | 2.Czytnik kart SIM | 3. Czytnik kart microSD | 4. USB 3.1 | 5. RJ-45 | 6. Gniazdo blokady Noble
7. Gniazdo zasilania | 8. USB-C | 9. HDMI | 10. USB 3.1 | 11. Czytnik SmartCard (opcjonalny)
DANE TECHNICZNE
Procesor: Intel Core i5-8350U (1,7GHz)

4 rdzenie, 8 wątków procesora do 3,6GHz

(6M Cache,1,7GHz, do 3,6GHz w trybie turboboost)

Matryca: 13,3" 1920x1080 Full HD IPS - matryca ze świetnym odwzorowaniu kolorów!
Kontroler graficzny: zintegrowany układ Intel(R) HD Graphics - HD 620
Pamięć RAM: 16GB - bardzo szybka pamięć DDR4
Dysk twardy: Bardzo szybki, dysk SSD 256GB M.2

Możliwość zmiany na pojemniejszy, nowy dysk SSD 512GB lub 1TB w najnowszym interfejsie M.2 PCIe NVMe!
Dźwięk: Zintegrowany układ High Definition Audio
Karta sieciowa: Intel Gigabit Controller
Komunikacja bezprzewodowa: WIFI; Bluetooth
Porty: Audio; 2x USB 3.1; RJ-45; USB-C; HDMI
Wprowadzanie danych: Touchpad; Klawiatura w polskim układzie (Uzyskanym za pomocą naklejek spolszczających)
Dodatki: Kamerka internetowa
Bateria: ok 1,5 godziny (szacowany czas pracy na baterii określany jest w momencie bezczynności systemu operacyjnego)
System: Windows 10 Pro (COA) - system zainstalowany na dysku + licencja

Na dokumencie zakupu widnieje wpis, że komputer sprzedawany jest z systemem!

Klasa A/A-

Sprzedawany przez nas sprzęt jest produktem używanym, poleasingowym. Towar został sprawdzony przez profesjonalny serwis, co daje nam gwarancje 100% sprawności technicznej. Laptop jest przygotowany pod klienta, instalowany jest oryginalny system Windows, wgrywane najnowsze sterowniki. Klasę produktu oceniamy na A/A- czyli sprzęt, który posiada niedoskonałości typu ryski, przetarcia, czy też ślad po naklejce. Ekran w bardzo dobrym stanie, może posiadać niewielkie prześwietlenie, nie przeszkadza to jednak w codziennej pracy na laptopie.
Wymiary, waga i pochodzenie
Wymiary: 16.5 x 305 x 208 mm (wys x szer x gł)
Pochodzenie: Magazyn Outletowy Dell
Gwarancja - 12 miesięcy (realizowana w naszym serwisie MMCOMP).
Product reviews (0)